Business Contract Drafting And Negotiation
Atlanta, Georgia Business / Corporate Law Firm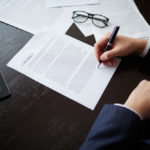 Contracts play a vital role in the operation of most businesses. They are needed to obtain supplies, employ workers, lease distribution centers, and more. Well-written contracts are used to define associations, outline rules and expectations, keep the peace, and solidify a wide variety of agreements between two or more parties.
Having an experienced Business Law attorney draft, review, and negotiate your contract's terms can greatly protect you and your business from future litigation. This is extremely important in partnership situations where the lines between rights and obligations can easily be blurred.
Conflicts are inevitable in any relationship, especially where money, tight deadlines, and multiple decision-makers are involved. A clear, well-written agreement that is free of ambiguity can settle questions about your rights and duties without the need of a judge and jury.
Do not rely on "Do It Yourself" agreements or contracts that you found in a Google search. While this may seem like a cost-effective option, each business transaction and business entity is unique; therefore, relying on copied and pasted contracts can expose your business to costly litigation.
Be proactive, not reactive! Involving a qualified business attorney who is well-versed in contract drafting and negotiations can not only save you from steep fines and judgments but also give you an advantage over your competition; help you find common ground with vendors and employees, and help you avoid deal-breakers that are simply non-negotiable.
What's your next business venture? No matter how small or large the transaction, we want to hear from you. If you have any inquiries regarding contract drafting and negotiation for your business, please contact the qualified legal counsel at The Law Offices of Sam Maguire Jr., P.C. by clicking the button below.
Practice Areas
Office Location
SynerG Law Complex
6075 Barfield Road, Suite 119
Sandy Springs, Georgia 30328
We Value Relationships
Clients We Represent and Serve
Ask a Qualified Georgia Real Estate Lawyer
If you have questions, we want to hear from you and answer your questions. Please submit your question below, and one of our legal professionals will respond to you soon.