Contract Drafting And Negotiations
Atlanta, Georgia Commercial Real Estate Law Firm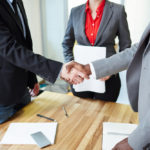 To properly manage risks and protect your interests, business contracts should be extremely clear and unambiguous as to the parties' rights, expectations, and obligations. Contract drafting is truly an art and science that takes years to master. The right legal representation will not only consider your needs and desires, but also the needs and desires of all parties involved, your specific industry and the legal nuances that can affect your ability to bind a party to certain terms.
There are times when you may need to negotiate terms for a unique situation or event. With several years of extensive experience in contract drafting, reviewing, and negotiating experience, there are not many situations we have not encountered and helped our clients overcome.
Having the right legal representative review and craft your sales contract terms can make all the difference as to the validity of your contract. A valid contract must use language that is clear to prevent confusion and contain specific words and provisions that make it enforceable. Do not rely on contracts or forms that were found on the internet via Google.
Legal documents sourced from Google may omit key terms specific to your situation and could lead to costly lawsuits later down the road. Ultimately, we are vested in the success of our clients' businesses. Our goal is to thoroughly analyze real estate contracts to save you time and money, and to save you from the headaches and losses associated with expensive lawsuits.
Do you need a lawyer to review your real estate contract and transactional documents? Do you have a question about a real estate contract that another party has submitted to you? If so, please contact our experienced attorney at The Law Offices of Sam Maguire Jr., P.C. by clicking the button below.
Practice Areas
Office Location
SynerG Law Complex
6075 Barfield Road, Suite 119
Sandy Springs, Georgia 30328
We Value Relationships
Clients We Represent and Serve
Ask a Qualified Georgia Real Estate Lawyer
If you have questions, we want to hear from you and answer your questions. Please submit your question below, and one of our legal professionals will respond to you soon.