Easements & Right-of-Way Acquisitions
Atlanta, Georgia Commercial Real Estate Law Firm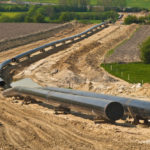 As cities and counties grow, it is sometimes necessary for the local government to acquire or access a commercial property to help accommodate growth, especially where roadways and above ground or underground utilities such as electrical or water lines are involved. The property acquisition process can be complicated and it is essential to have a qualified real estate attorney to assist you.
Easements allow the local, state, or federal government access to a portion of the property for a specific purpose while the property owner retains their ownership of the property. Right-of-ways allow the government to gain access to your land as a passageway. For example, a new road or bypass. The same situations apply to expanding businesses that need access to another person or business' property to accommodate their growth.
Due to the basic nature of easements and right-of-ways, it is absolutely essential to have a fundamental understanding of the way they are formed, their scope and transferability, and how they may be terminated. Our office can assist governments as well as commercial or residential landowners who are negotiating land use agreements or disputing the misuse of an easement or right-of-way.
Our qualified Real Estate attorney can help commercial builders, manufacturers, investors, farmers, ranchers, or government entities who need guidance on properly acquiring a right to use someone else's real property or resolving issues with the misapplication or misuse of an easement or right-of-way.
If you have any inquiries regarding Easements & Right-of-Way Acquisitions or require other legal advice, please reach out to our experienced real estate attorney at The Law Offices of Sam Maguire Jr., P.C. by clicking the button below.
Practice Areas
Office Location
SynerG Law Complex
6075 Barfield Road, Suite 119
Sandy Springs, Georgia 30328
We Value Relationships
Clients We Represent and Serve
Ask a Qualified Georgia Real Estate Lawyer
If you have questions, we want to hear from you and answer your questions. Please submit your question below, and one of our legal professionals will respond to you soon.